As you are getting started with a church capital campaign, it may seem like a simple task to create a pledge card, but there are many considerations and variations with the information you collect and the language of invitation to include that make a difference in your giving results. Here are some samples that we are proud of and some reasons why we chose to craft the pledge cards as they are. 
Combined Annual Appeal and Capital Pledge
For a capital campaign kicking off around the same time as your annual campaign, we often recommend combining the appeals into one campaign. Sacred Heart Catholic Church in Prescott chose to do just that. Their pledge card visually separates annual giving from the capital campaign commitment to make it easy to fill out. This layout clearly communicates the two separate asks within the combined campaign. Encourage early giving and non-cash assets were part of the strategy for this campaign, so we included custom fields to bring that to the attention of the giver. Consistent branding through the campaign logo and slogan communicate professionalism and inspire hope for the future.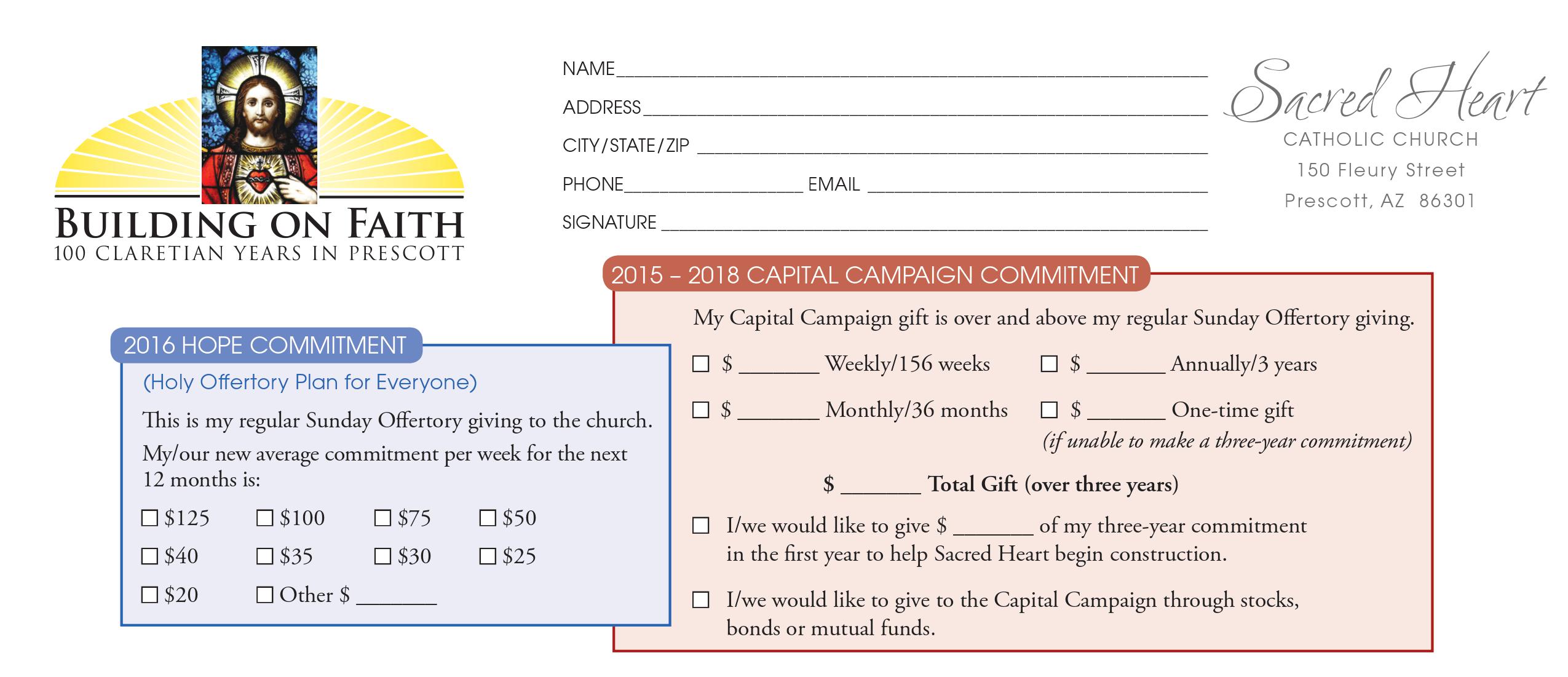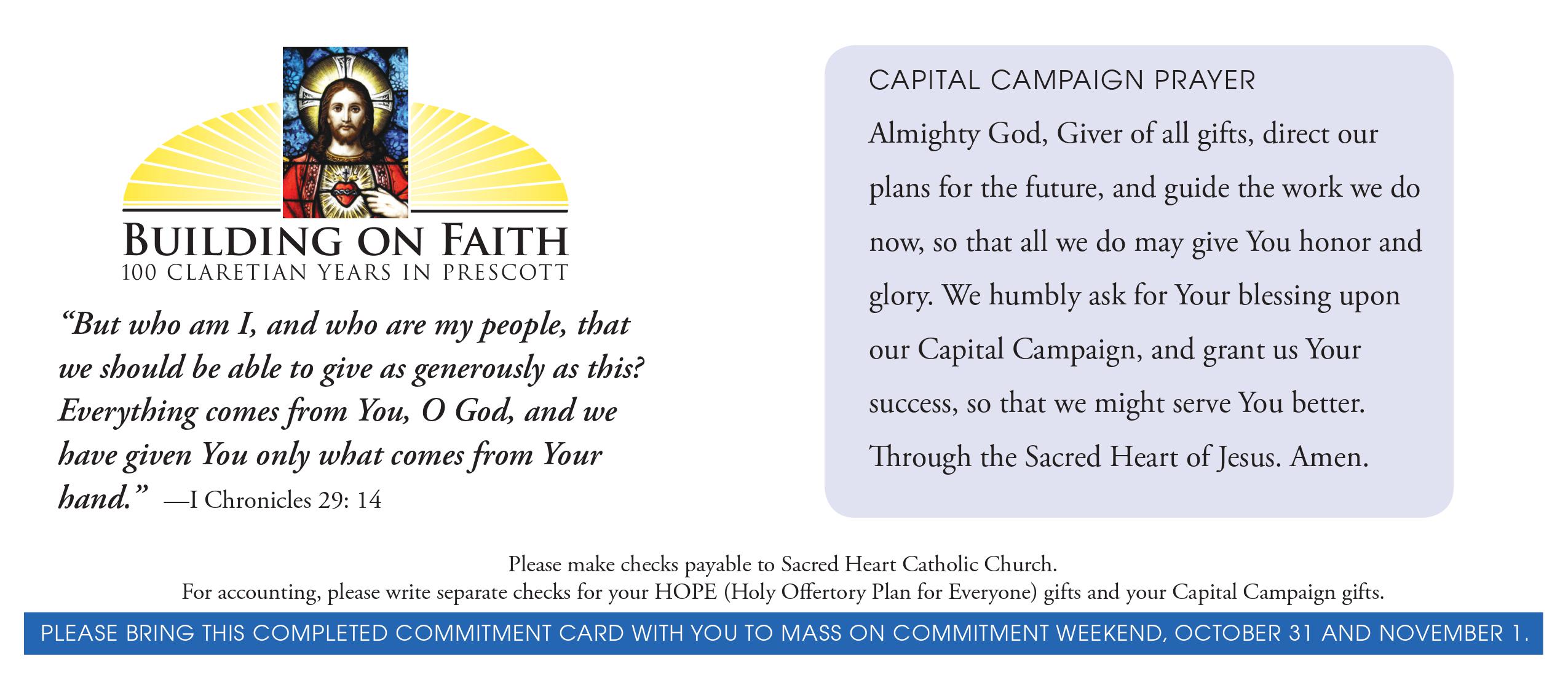 Administration information about completing the pledge is included on the back for convenience in case the pledge card is separated from the campaign brochure. The campaign prayer is included to encourage giving in the spirit of prayer and discernment.
Capital Campaign Only Pledge Card
Some capital campaigns happen outside of the regular annual campaign season. For First Christian Church of Topeka, their spring campaign necessitated an independent campaign, with an additional annual giving campaign in the fall which we supported in their follow up service. First Christian's strategy included encouraging non-cash assets, recurring EFT/credit card gifts, and planned giving. We highly recommend offering more tech-saavy options for giving to your members. We gave pledgers the option to receive more information as a method of information about these lesser-known options as well as an invitation to participate.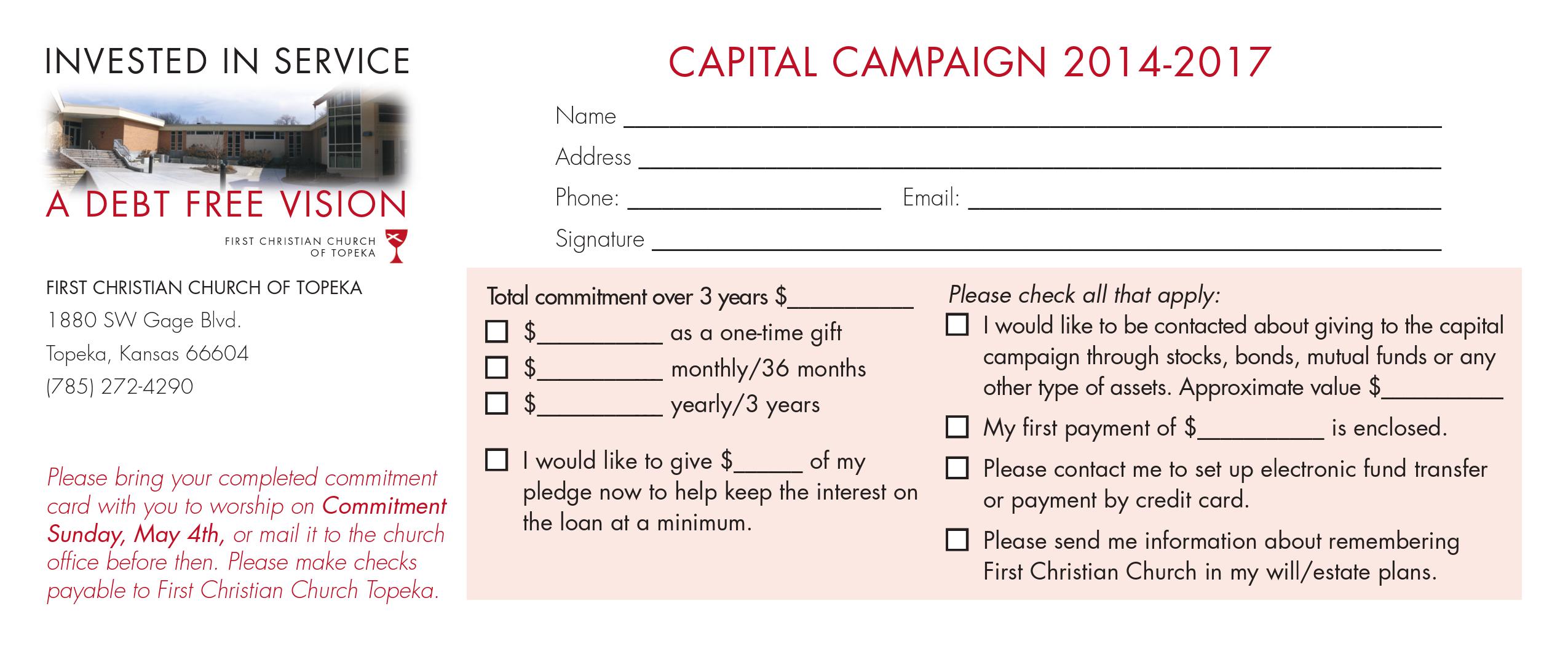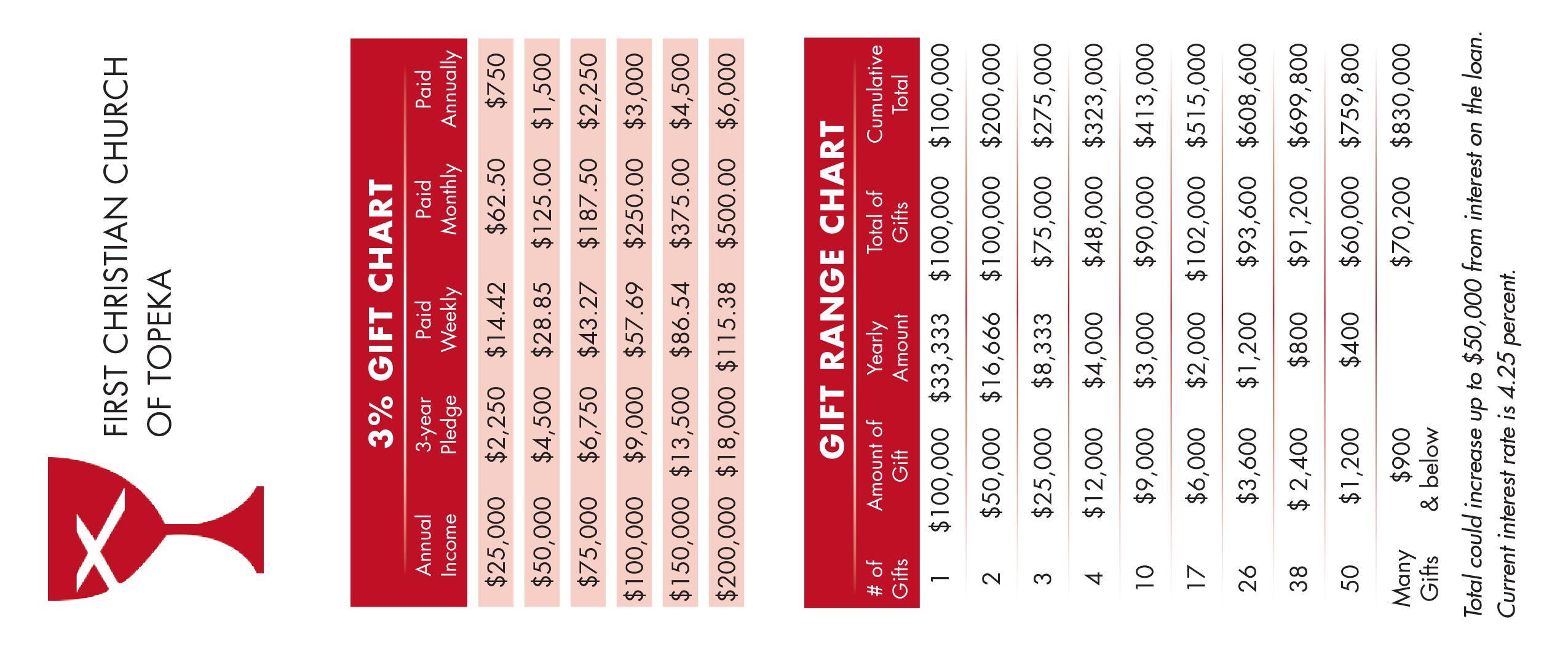 The back of the pledge included a giving chart for easy calculations of gift and a gift range chart to encourage top donors to maximize their potential. Research shows pledges consistently sit, on average, between 1.2-2% of income, based on denomination and the culture of generosity you've built in the church. We recommend an ask of 3%, which is in the realm of possibility for many folks while also stretching them to increase their giving in faith.
Capital Campaign Pledge Card Mailer 
Sometimes you have to get creative to keep your administrative costs low. At Holy Trinity, the stewardship director formatted their pledge card as a postcard mailer for ease in returning it to the parish and to avoid the added expense of printing an envelope. The card folded in half with personal and giving information securely located on the inner fold to protect confidentiality of donors sending their information through the mail or placing it in the basket without an envelope.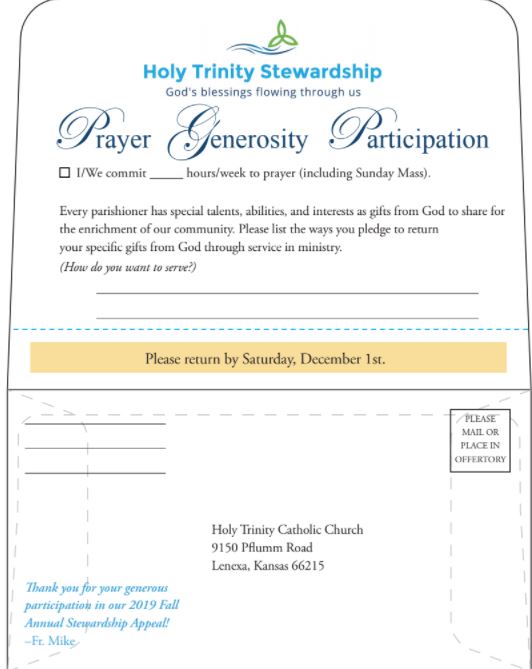 Include These Components to Increase Giving:
Contact information (including email to add your members to a church bulletin/events mailing list)

A link to your church's website online giving page

An option to increase last year's pledged amount by 3%, 5% or 10%

a box to opt in to Electronic Fund Transfer (you may need to direct pledgers to fill out an additional form through the church office).

an option to make recurring payments by credit card

a box to check for more information on planned giving

a pledge request for non-financial stewardship of time and talent (help members see that stewardship is not just about financial resources).

a "Return by" date (helps to drive a sense of urgency
We hope these tips are helpful as you are reimaging how you invite members to participate in the life of the church! For more strategies to increase giving at your parish visit our resources page and subscribe to The Stewardship System.